Or

"New soul revival..." as some would call it. Whether folks like the term "neosoul" or not, I have to say, soul music between the 90's and the early millennium stepped on the scene like it had an agenda, and I wanted to follow every topic on that agenda. Especially the main topic reminding folks that Soul music is here, and it's here to stay. Neosoul to me is a reinvention of great soul music derived from the 60s, 70s, and early 80s, upgraded with a modern twist. Soul music forever moves me, pulls at my heart strings, influences a style in me. I'm a woman, so it's fitting for me to highlight female neosoul artists I appreciate. These women did more than make great music, they inspire me in so many ways - just as they were inspired by soulful artists like James Brown, Aretha Franklin, Marvin Gaye, Teddy Pendegrass, Stevie Wonder, Isley Brothers, and Chaka Khan. Maybe my next music post will be on men of neosoul, they get their props too.
Anyway, these 5 women - their style, their performance ability, their songs are definitely responsible for bringing the rawness and talent out of me. Their music, natural, effortless laid back looks, and their swag, helped me get closer to identifying who I am as an artist.
Mainstream or not, these are my top 5 neosoul inspirations of my generation:
India.Arie
A true natural beauty who is comfortable in her own chocolate brown skin. Not only is she super soulful in her music ability, her inner being exudes soul. A true inspiration she is. I love her afro-centric, bohemian chic style. Her songs are poetic, the lyrics are profound. All these things along with her smooth vocals - makes her a neosoul artist to be reckoned with. She has written so many songs I wish I have written them myself. "I am not my hair", "strength courage and wisdom", "There's Hope" - these songs are like listening to the thoughts of my mind in a melody. Keep on keepin' on, India!
Strange and eccentric as she is, her talent is just right. When she came on the scene, I was in my late teens in the late 90's and working at the Wherehouse music store. While sorting out CDs and labeling name cards on the shelves, I hear Erykah's Baduizm blaring out on the store's speakers for the first time; I was immediately and easily intrigued by the soulful sounds of this easy sounding, smooth music I was hearing.
This woman truly knows how to dig deep into her art. Baaaaaaadu! Rock on sistagurl, rock on.
She may not label herself as a neosoul artist, but I feel she was definitely a part of the movement. Her music lays on the folk side of music but she has a whole lot of soul. That smooth twang in her voice, the mesmeric smooth base lines and soulful melodic chords played in her songs, makes her music and lyrics speak volumes to me. When she came on scene in '98, I became inspired by her free spirit, and later her indie mind. She may be one of most underrated artist of our time, but definitely not understated. Her music definitely makes a statement in my book. Her lyrics are poetry in motion when she sings them. Don't sleep on Alana, she's the real deal. Alana! Come out, come out, where ever you are!!! Your fans miss you!
This beautiful soulstress' music is so good you can taste it (grits, colard greens and candied sweets), no seriously, Jill's poetic musical nature has so much flavor inpacted into her songs. Just like the other ladys mentioned above, she is another artist I aspire to be. I truly appreciate artists like her, someone who truly embraces every good thing about her, and it shines for all to see. It's contagious. Jill's music and voice is like a warm cup of hot chocolate on cold rainy winter day, w/ a little shot of brandy or rum poured in it. Let me not forget to mention, her style is FLY! A natural beauty, indeed.
Call her neosoul, call her R&B, call her hip hop or call her all of the above (like many other artist, including the ones I've mentioned), she is definitely a soulmaster of the millenium. I like Alicia's talent so much, I'm having a hard time putting it into words. I will put it this way, I'm an alto soprano, and as a singer growing up, it was hard to relate to any other artist, or find my own vocal style. I was and still an old soul, and my singing style wasn't like Brandy, Monica, or Aaliyah, I couldn't do all those polished runs and riffs they did. Loved to, but couldn't. Then Alicia came along, she had an "ol skool", raw styled voice like me, and her music was smooth head boppin' stuff that I can groove to and sing. Alicia has an overload of talent, coming out of her ears, and she is not done. She's beautiful, sweet (I know, cuz I met her a couple times), and full of life. She's a little younger than me, but musically she is who I want to be when I grow up. LOL! She is truly a "Superwoman" indeed!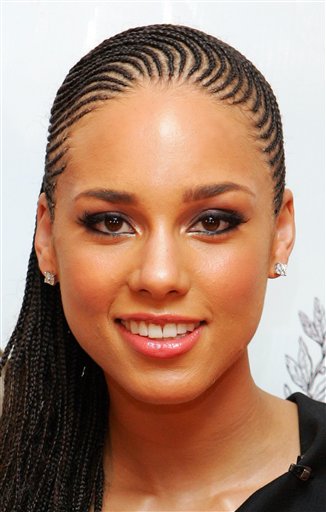 Well there you have it! My top 5 women of "neosoul" who inspired a new beginning in music for me. These ladies and many other artists have paved the way for artist like me to find their way home - it's been a smooth and groovin' journey. Oh, and I have to say, these women can ROCK some natural hair too!
Now I wann know, who inspires you? What artist do you dig? Who to you, have soul coming out of their pores? LOL! You know what I mean...